Welcome to
Safari Sam Online


Wanna win free stuff? check out the Contest
0119
Comic for September 10, 2001
Updated Monday and Friday normally. Current situations are not normal, however.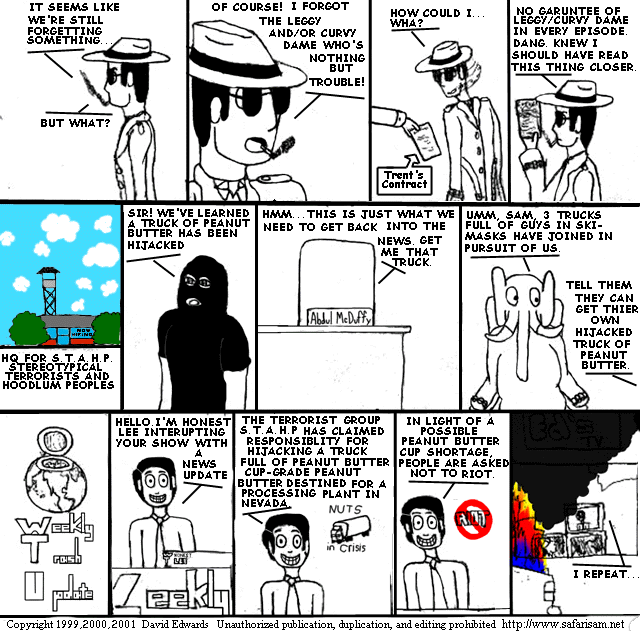 Honesty is the best policy
First Strip Start of Story arc Previous Strip

April 1, 2002: Sorry for being gone so long. After a long hard think, I've desided not to discontinue Sam. What can I say, I like the retard. However, I'm dropping the current story. Not so much because of the subject matter, but, because I'm not happy with it. So, I'm working on another story arc. Its a bit more "serious", and serves mainly as a character devolpment vehicle.
September 10, 2001: Haven't really been happy with the current lay of the story, so i'm making some changes. I've also been dodging this. I hope to get back to normal soon. Sam isn't dead. Sorry to disapoint.
June 17, 2001: I'm working the night shift. It messes you up. I have the story finshed...on paper. I just need to get it scanned in. I'll probably be posting it 4-strips at a time.
May 24, 2001:Sorry about the lack of updates. Between exams and getting a job, Sam hasn't had alot of time. I plan on finishing the current stroyline soon. I'm still trying to get out on paper. Maybe I can get som editing done at work. I hope. Well, so much for averaging out. Maybe next year.


Don't get the joke? Want it explained? Well, i don't have anything better to do. Email me for an explaination.
or ICQ me at 8295232
Or, drop a line to the forum: Safari Sam Forum
Sign the guest book View my guest book.

Ooo! Scrolly!

Want some Sam Realated artwork? Came here for some Cartoon Elephants? Well, tell me what you want! E-mail me!



Click it, and help me stave off disease and hunger this winter.


Check out the Contest and win free stuff.

Current Freatures(Continuing to expand):
Get Safari Sam delivered!
Safari Sam FAQ
Character List & Profiles
Links to other On-line cartoons
Safari Sam's Manifesto
The Weekly Trash-The lastest on what's up with Sam
Archive



Comments? Sugguests? Comparisons to how bad this really sucks?webmaster@safarisam.freeservers.com

We appologize in advance.


This page has been accessed




times since Oct. 10, 1999.
All Items minus those owned by FreeServers and others, are copyright 1999,2000,2001 David Edwards